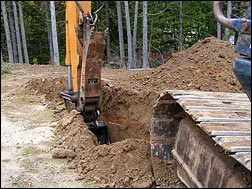 Sutherland Excavating Ltd. specializes in environmentally sensitive work. Our petroleum storage tank license has brought us substantial work in site remediation. We have cleaned sites of bunker c oil, fuel oil, gasoline, jet fuel and aviation fuel, as well as other contaminates.
We have installed pump and treat collection systems for water contamination, vapor extraction systems, and bio-remediation systems. We also haul and dispose of contaminated soil.
Our equipment rental fleet also has tankers we use for environmental work such as transporting leacheate, as well as heavy equipment for earth work. We now also offer a full size Industrial Vac Truck with hot and cold and steam capabilites.
Other types of environmental work are stream restorations and culvert installations.
For more information on environmental services please call Blake at 506-622-5437.
We specialize in environmental work all over New Brunswick.
For information on OIL SPILLS please click here.